Funny Valentines: Valentine's Day Marketing in 2014
Social media is incorporated into almost every Valentine's Day marketing campaign this year. While many advertisers, like flower companies, are selling their products on these platforms, others are engaging consumers with humorous campaigns that offer them a chance to receive free gifts from the companies. Three creative campaigns stood out from the crowd and created a buzz this week.
Heineken
In an effort to get men into the Valentine's Day spirit, Heineken launched the #DateInABox campaign, targeted toward women, which gives couples an opportunity to experience a unique, prearranged date, like a jujitsu lesson for two. To get a box containing the date delivered to their valentines, female users tweeted at the brand. It seemed easy enough, but there was a catch. Their men had to profess their love on social media mentioning the #DateInABox hashtag to receive a code to open the box. By February 13th, all the boxes had been distributed, and the men who sufficiently show their love will receive the code Valentine's Day morning.
A commercial accompanying the initiative can be viewed here.
TGI Fridays
To keep the holiday humorous, TGI Fridays did not focus on couples this year, but instead decided to honor the "wingman." The company asked their Twitter followers to send tweets honoring their favorite partners-in-crime. The first 500 users to tweet #ThanksWingman received a $15 gift card from the restaurant, enough for a plate of wings. Free wings with no questions asked? We're not complaining. #ThanksFridays.
Pizza Hut
One of the most inventive Valentine's Day campaigns came from Pizza Hut this year. The company created a dating profile on OkCupid, so users can "date a pizza." The idea may seem ludicrous, but by committing to the joke and sending a wedding proposal to Pizza Hut on Instagram, Twitter or Vine, users can win free pizza for life. The user with the most creative marriage proposal idea will be chosen as "The One," and receive the prize.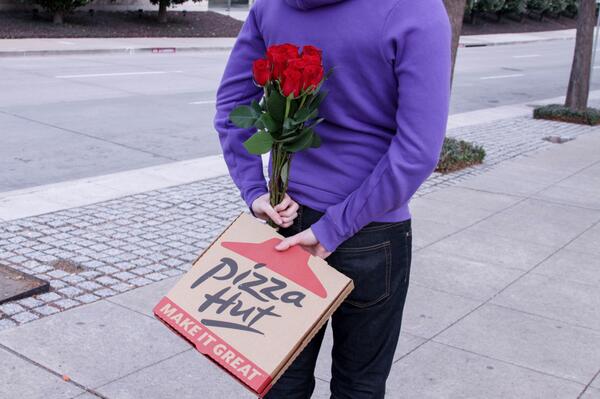 What does everyone love on Valentine's Day, or any other time of the year? Free stuff. These brands capitalized on the desire for romance, and freebies, through clever campaigns. Clearly, giving away products and other prizes are effective ways of engaging with consumers and building brand loyalty. The big question that remains is whether it's easier to propose to your girlfriend or to a pizza.